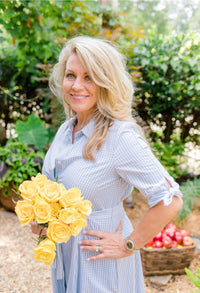 The plants and flowers are not the only thing growing around here!!!! I feel so blessed when I sit back and look at where we have come in 5 months. Seriously!!!!! With everything going on in the world , shipping struggles , price increases …. BUT YET we are thriving , growing and all so full of joy around here. All because of you!!!!!

I wanted to pop on and explain what's happened here as I get messages all the time saying. "WAIT ARE YOU BACK?" I know I've confused many of you.


YES I am back - the support and sweet messages from all of you has made me realize more then ever what I left behind when I sold the shop four years ago .


Being honest here, when I got the news I needed to step back in to save Grayce I was scared! Didn't know what to expect - I had moved to Dallas to be closer to my kids and grandkids , started a new floral business and so very happy and settled! But Grayce was still part of me. When you start a business from the ground up it's almost like one of your children! I prayed long and hard and let God lead me. He has blessed me with the staff I needed and equipped me with every single need to get us where we are today!

I didn't know what I was up against but I knew who was up against it with me!

Grayce is not just the name of the shop but a name with deep meaning from my path that led to this beautiful shop. "God has always covered me with Grace and so this shop will be called Grayce " Even after I sold and moved on God brought me back and is still covering me.


God is able to make all grace abound to you, so that in all things at all times, having all that you need, you will abound in every good work . 2 Corinthians 9:8